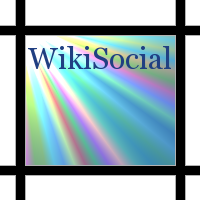 I doubt anyone would disagree with me when i say that the current logo's pretty bad. I made up a sample idea of a logo.
It's not the best work I've ever done and it's only a sample but what do ya think? WillSWC 07:00, 14 July 2007 (UTC)
I agree that the current logo should go. The words are hard to read, and "Social" isn't capitalized (WikiSocial). I like the logo above better. I'd be willing to make a logo or two. :) Swannie 14:44, 24 July 2007 (UTC)
I will put all of the logos I create below. :)
Swannie 16:02, 24 July 2007 (UTC)
Wow Swannie, those are pretty impressive. I can't decide which one i like best. lol. Puts my work to shame. :)

Will

SWC

20:50, 24 July 2007 (UTC)

On second though I uploaded the first one. I need it resized so it fits the full space of the Smoke/Slate skin and also a Transparent Background if you can. :) Also i found these 2 old logo's for SocialWiki.
WillSWC 21:00, 24 July 2007 (UTC)
Uploaded new Logo
Edit
Community content is available under
CC-BY-SA
unless otherwise noted.